Commitment To Excellence
Join Our Team
Here at OSS Health, our mission is to continually strive to be the healthcare leader in quality, innovation and value. Our vision is to provide meaningful care aimed at improving the health, well-being and quality of life for our patients and the community.
We live and succeed each day by carrying out our values, making every effort to understand and exceed the expectations and needs of our patients as well as to provide an environment of safe, respectful, and dignified care at all times.
5-Star Quality Care

Look for innovation in the most current medical technologies and procedures. The value is in our patients and the ability to provide them with comfort, convenience, and confidence in the service we offer.

Professionalism and Responsibility

Open and honest communication, fair and timely assessment of performance, and equitable compensation within a framework of equal opportunity and inclusion.

Foster an Ethically Trusted Environment

We strive to make the best effort to protect the rights of our patients and employees. We are honored to receive your trust and confidence and will act with integrity and honesty in all situations to preserve that trusting relationship.

Community We Serve

We provide a wide range of services to meet the needs of the community to improve the quality of life.

Organization and Owners

We strive to maintain the position and reputation of being the premier provider of orthopaedic and musculoskeletal care in South Central Pennsylvania.
Perks of working at OSS Health
OSS Health Team Benefits
OSS Health offers a full range of benefit options to staff, with many options available to those who work part-time. Just some of the benefits offered are listed below:
Health Insurance

Medical/Prescription Insurance, with additional script options available at no cost, as well as dental and vision insurance. Individual premiums are below average in our area and across the country.

Retirement/401K

A retirement plan that is unrivaled to help build savings for your future. With a guaranteed company contribution, the ability to place your own funds into the plan almost immediately, customizable investment options, plus a profit sharing component for eligible employees.

Life Insurance

Company paid life insurance and company paid short- and long-term disability, along with options to purchase additional policies for self and family members at group rates.

Paid Time Off

Enjoy your time at work and away from work. Substantial Paid Time Off program, including holiday pay to provide employees with a beneficial work/life balance.

Education Assistance

Educational Assistance program is available to assist you in furthering your education.
OSS Health Recruitment Process
Below are the steps to OSS Health's inclusive recruitment process. Thank you for your interest in a position within OSS Health.
Submit Application

Review available positions and apply right away. You also have the opportunity to create an applicant presence and be alerted when desired positions become available.

Review Qualifications

We appreciate your time and interest in joining the OSS Health team. We will closely review your accomplishments to make sure we are the right match.

Phone Interview

A member of the OSS Health team will reach out to conduct a phone screen. From the phone screens, we will then invite the top candidates for a behavioral-based interview.

Reference Checks

References you provide will be contacted to learn more about previous employers, schools, colleges, and other sources to confirm that you are qualified for the job.
Job Shadow opportunities are available at OSS Health for students who are considering a career in healthcare and would like to shadow a healthcare professional. Any interested students would need to provide proof of vaccination or complete the medical/religious exemption request.
Job Shadow Forms
Students who are interested in job shadowing must complete the following:
Please return all completed forms to:
OSS Health
Attn: Hannah Pugh, HR Records Administrator
1855 Powder Mill Road
York, PA 17402
Fax: 717-741-9630
Email: hpugh@osshealth.com
After all forms are received and reviewed, you will be contacted by an OSS Health staff member to schedule your shadowing experience.
NOTE: If any of the forms are missing or incomplete, you WILL NOT be contacted. We do not accept electronic or typed signatures.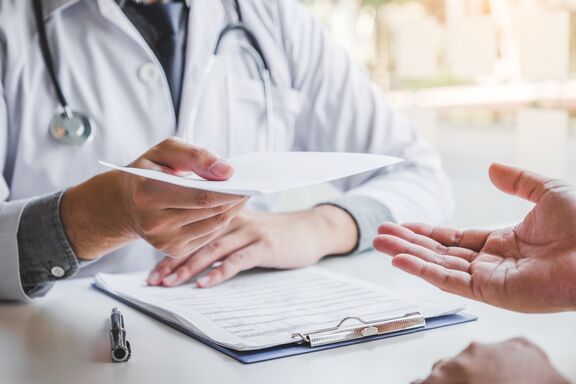 Equal Employment Opportunity Employer
Become an OSS Health Team Member
OSS Health is committed to nondiscrimination in employment and opportunity based on race, color, religion, national origin, ancestry, sex, age, sexual orientation, marital status, status as a disabled or Vietnam veteran, or status as a qualified disabled individual in accordance with applicable laws.