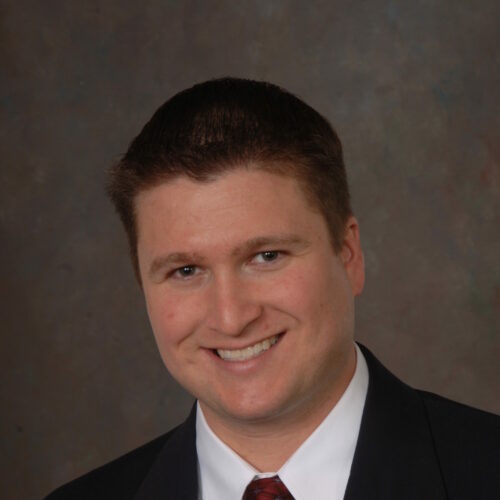 Meet Dr. William Ulmer, Jr.
William H. Ulmer Jr., DO, is a board-certified orthopaedic surgeon with special expertise in sports medicine and arthroscopic procedures of the shoulder, knee and elbow. As a sports medicine surgeon, he has extensive experience in ACL reconstruction, meniscus and cartilage repair, rotator cuff repair and shoulder instability.
In his role as Associate Master Arthroscopy instructor, Dr. Ulmer has taught arthroscopic procedures to surgeons from around the world at the Orthopedic Learning Center in Chicago, IL. He is the head team physician for the York College athletics department as well as the team physician for a number of York County high schools.
Dr. Ulmer is always looking for new and innovative techniques for his patients. It is important for him to provide game game-changing technology when it comes to surgical procedures. Dr. Ulmer is one of few surgeons in the country now performing the BEAR ACL surgical technique. The BEAR ACL is a revolutionary procedure in which an ACL tear is repaired by inserting a bovine (cow) collagen implant between the torn ends of the patients' ACL. The collagen implant is then filled with the patients' own blood. This combination acts as a bridge and enables the body to heal the torn ends of the ACL back together, while maintaining the ACL's original attachments to the thigh bone and shin bone. As the ACL heals, the BEAR implant is resorbed by the body within approximately 8 weeks. You can learn more about this procedure under our News, Blogs and more tab here: https://osshealth.com/blog/acl-game-changing-technology
Dr. Ulmer's goal is to keep patients healthy and active, whether you are an up and coming all-star, an aging weekend warrior, or someone just looking for a minimally invasive approach, Dr. Ulmer is available for your orthopaedic and Sports Medicine needs.
Request An Appointment
Provider Background
Medical School
Philadelphia College of Osteopathic Medicine, Philadelphia, PA
Fellowship
Sports Medicine and Arthroscopy Fellowship at Orthopaedic Research of Virginia, Richmond, VA
Residency
Memorial Hospital, York Hospital, Sinai Hospital and John Hopkins University Hospital Dept. of Pediatric Orthopaedics
Board Certifications
American Osteopathic Board of Orthpaedic Surgery
Affiliations
American Osteopathic Academy of Orthopedics
American Academy of Orthopaedic Surgeons
American Orthopaedic Society for Sports Medicine
Arthroscopy Association of North America
Pennsylvania Osteopathic Medical Society
Fully Accredited Professionals
Meet Other Elbow Providers
For more than a decade, OSS Health has been providing the highest quality orthopaedic and spine care to patients in York, Adams and Cumberland Counties.