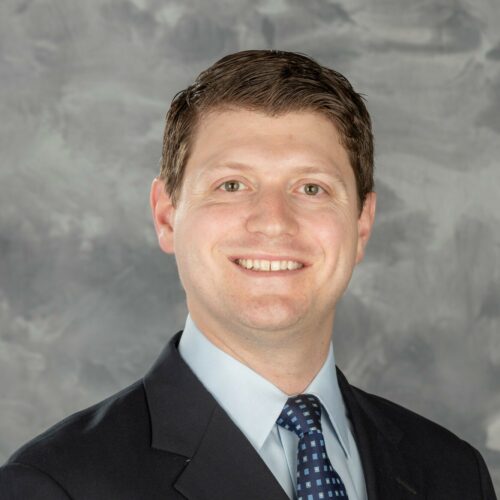 Meet Dr. Matthew Christian
Matthew Christian, MD is an orthopaedic surgeon with specialized fellowship training in foot and ankle disorders. Dr. Christian's primary interests include orthopaedic foot and ankle sports medicine, ankle arthroplasty/joint replacement, and foot reconstruction. He has a unique background in the treatment of arthritis, limb salvage, deformity, length discrepancies, and pediatric foot and ankle issues. In addition, Dr. Christian specializes in Orthopaedic trauma.
During his residency at University of Maryland Medical Center/R. Adams Cowley Shock Trauma Center in Baltimore, Maryland, Dr. Christian provided Sports Medicine coverage to the varsity sports teams at The University of Maryland, College Park, as well as numerous Maryland high schools. He received training in pediatric orthopaedics at both the Johns Hopkins Children's Center and the University of Maryland Children's Hospital. In addition, he received training in congenital and post-traumatic limb deformity at the Rubin Institute for Advanced Orthopaedics International Center for Limb Lengthening. Dr. Christian then completed a one-year Orthopaedic Foot and Ankle Fellowship at Mercy Medical Center in Baltimore, covering all aspects of foot and ankle reconstruction, conditions, injury and trauma care.
In his leisure time, Dr. Christian enjoys spending time with his wife, Kaci, and his three children. He enjoys the outdoors, running, and is a competitive racquet sport player.
Request An Appointment
Provider Background
Medical School
University of Maryland School of Medicine, Baltimore, MD
Fellowship
Institute for Foot and Ankle Reconstruction at Mercy Medical Center, Baltimore, MD
Residency
University of Maryland Medical Center/R. Adams Cowley Shock Trauma Center, Baltimore, MD
Affiliations
American Orthopaedic Foot and Ankle Society
American Academy of Orthopaedic Surgeons
American Orthopaedic Association – Emerging Leadership Program
Orthopaedic Trauma Association
Pennsylvania Orthopaedic Society
Alpha Omega Alpha Honors Medical Society
American Medical Association
Orthopaedic Research and Education Foundation
Fully Accredited Professionals
Meet Other Foot & Ankle Providers Providers
For more than a decade, OSS Health has been providing the highest quality orthopaedic and spine care to patients in York, Adams and Cumberland Counties.